About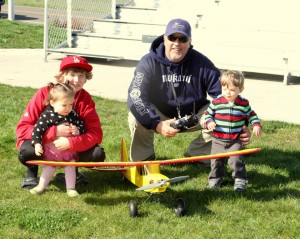 John Davis is the owner of JAYDEE TECHNOLOGIES, LLC and is a 25+ year veteran of the banking and information technology field. John leads a small team of dedicated individuals with strong experience in network administration.
Our team is skilled at assessing client needs and recommending strategies that enhance efficiency and maximize ROI, implementing cutting-edge technology solutions and training/supporting your end users.
Of course, John loves other things too, as seen in this picture as he spends time with his grandchildren and enjoys his RC airplane hobby.
JAYDEE technologies offers experienced, successful and results-driven competencies in all major areas of information technology including (but not limited to)…
• Network/LAN/WAN administration
• Network/LAN/WAN design and implementation and/or integration
• Network/LAN/WAN installation
• Wireless Networking
• Desktop and peripheral installation and support
• Software installation, configuration and support
• Hardware installation, configuration, upgrades and support
• Hardware/Software evaluation and purchasing
• Bank/enterprise level network and information security
• Virtual Private Network design and implementation
• (Gramm-Leach-Bliley Act) Information Technology standards and solutions
• Enterprise level telecommunications
• One-on-one training and end-user support
Operating Systems and Core Software
Legacy Windows, Windows 7, Windows 8, Windows 10
Windows Server 2003, 2008, 2012 and Small Business Server versions
Microsoft Hyper-V Server
Exchange Server 2003, 2007, 2010, 2013