Small Business Email Hosting
With such a reliance on email today, every business and usually every employee within is required to have an email address for everyday business. If you are a small business and needing an email hosting company, our small business email hosting solutions are right for you. Take out the hassle and cost of the server and only concern yourself with helping your customers and clients. Let us handle the rest. With over 25 years of experience in the information technology field, we offer the best email hosting services and fantastic support.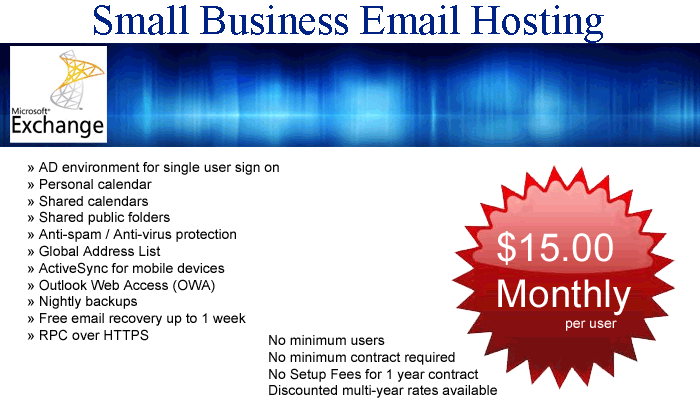 Reduced TCO (Total Cost of Ownership) of our Small Business Email Hosting
Small business email hosting solutions can be expensive if you try to do it all yourself.  As a small business myself, I completely understand. That's what we are here for, to reduce your total cost of ownership for your email solutions. At only $15.00 per user, you can't beat this deal. The biggest expense of email is the server and all that goes with it. Server hardware and upgrades, server operating system software, MS Exchange software, backup software, maintenance, license fees, the list goes on and on.  If you can take that huge cost out of the picture and just pay for your email boxes, your TCO drops dramatically. Our small business email hosting solutions do just that.
OWA (Outlook Web Access)

Need access outside the office? No problem! With our Small business email hosting solutions and OWA, you can access your email anywhere that has access to the internet. Whether you need to shoot off a quick email to a co-worker, or send an important correspondence with a high profile client, anytime, anywhere, you can do it! Forgot to set your out-of-office before you left for vacation? No problem, log into your OWA and set it.
Mobile Email with your Smart Phone
Need instant access to your email on your cell phone? Once again, we've got that covered. Our small business email hosting solutions allow you to connect to your email box via your smart phone. Send and receive with ease and speed.
Use Your Domain Name
Never use a gmail account again to do business. Enhance your professionalism by using your domain name for your email (xyz@YOURDOMAIN.com) instead of a Gmail or Yahoo account.
Usability for Small Business Email Hosting Solutions
Whether you are using Outlook 2003, 2007, 2010, or 2013, email has never been easier. The usability of our small business email hosting solutions will allow you to focus on your business and your clients, not your servers and hardware. Contact us today, our email hosting will take the headache out of email.